Purity Brewing Company is celebrating another brace of regional business awards.
The brewery scooped  Best Business under 50 Employees at the  Small Medium Enterprise (SME) Coventry and Warwickshire Business Awards, which celebrate  industrious, hardworking and enterprising SMEs in the county.
The eco-friendly craft brewers also picked up the runners up award in the Green category, in recognition of its efforts to recycle waste and minimise energy consumption in the brewing process.
Founded on a working farm in 2005, Purity has gone from strength-to-strength over the years, with a broad range of beers and an array of national and international brewing awards. The brewery now employs over  40 people and has expanded its sales regions as far  as Nottingham, Stoke-on-Trent, Bristol and London.
Purity Brewing Company also supports a range of local sports teams, music festivals and other regional events, as well as being an official partner of Wasps Rugby and Ricoh Arena.
Speaking about the award, MD Paul Halsey said:  "Whilst we pride ourselves on the quality of our beers and our eco-friendly values, we're also proud to be a local employer and an active part of the community. These awards celebrate regional business and with so many fantastic companies out there thriving, it's great to be recognised in this way. Cheers."
For more about Purity Brewing Company, visit  www.puritybrewing.com  or order beers direct at www.bottleshack.uk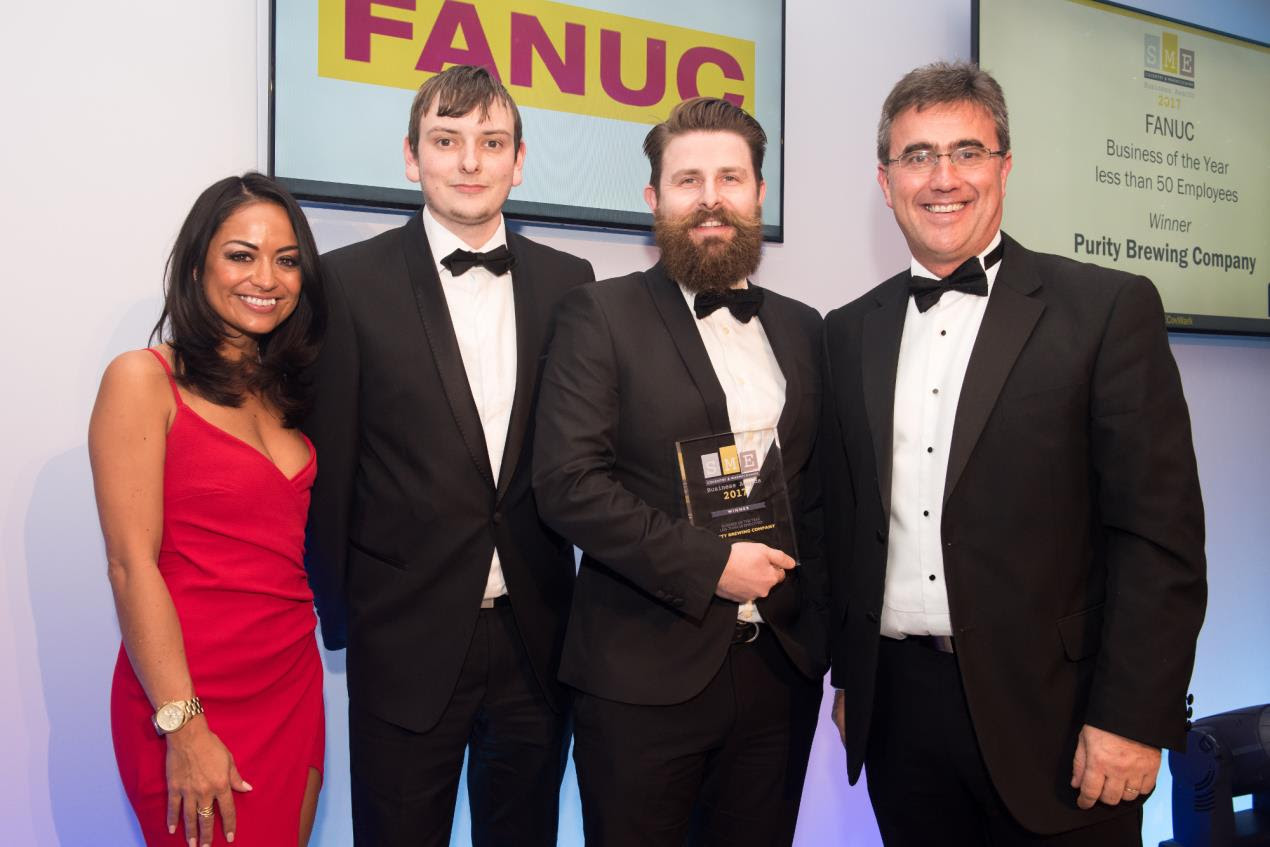 https://dmscdn.vuelio.co.uk/publicitem/fb2b583d-6175-49d6-92b0-520b181de02b/webversion
– ENDS –
Notes to editors
About Purity Brewing Co.
Purity Brewing Co. is a company dedicated to making a difference. In its award-winning products: Mad Goose, Pure Gold, Pure UBU, Saddle Black, Longhorn IPA, Lawless Lager and Bunny Hop – Purity demands premium quality and uniqueness. In service, Purity offers distinction, approachability and integrity.
Central to the brewer is a strong commitment to supporting the environment. Purity only uses natural ingredients, supports recycling  programmes  and respects the community. Also, waste products are recycled through a pond and wetland system. This sustainable eco-system helps minimise carbon dioxide emissions and encourage wildlife diversity.
The Awards:
 Bunny Hop, Lawless Lager & Mad Goose, Gold winners at SIBA Midlands Independent Craft Brewer's Competition 2017
 Purity Brewing Company, The Good Pub Guide Brewery of the Year 2018
 Purity Director of Brewing Flo Vialan, All-Party Parliamentary Beer Group beer awards brewer of the year 2017
 Mad Goose, Best Bitter at the Wolverhampton CAMRA Beer & Cider Festival 2017
 Purity Brewing Company, winners of Small Business and Fast Growth Business of the Year awards at the West Midlands Business Masters awards 2017
 Longhorn IPA – Gold, Small Pack Strong Bitters and Pale Ales at the SIBA National Independent Beer Awards 2017
 Purity Brewing Company – Winners, Marketing Implementation at the SIBA Business and Industry Award 2017
 Best Brewery Experience winner at the 2016 IWSC Beer Awards 2016
 Longhorn IPA and Pure Gold – Gold medalists at the SIBA Midlands Beer Competition 2016
 Mad Goose – Best Bitter at the 2016 IWSC Beer Awards
 Mad Goose, five star beer winner in the Best Bitter category at The Beer Awards 2016
 Pure Gold, X, Longhorn, Saddle Black & Mad Goose – medal winners at the International Beer Challenge 2016
 Purity Brewing Company – Midlands Sustainable Manufacturer of the Year 2016
 'X' Unfiltered Bourbon Rye IPA – Winner Best Packaging Design, SIBA Business Awards 2016
 Pure Gold – 2016 CAMRA Champion Beer of the West Midlands Medalist
 Pure UBU and Lawless Lager, global winners at the World Beer Awards 2015
 Mad Goose, Longhorn IPA & Gnarly, medalists at the International Beer Challenge 2015
 Pure UBU – World's and UK's Best Amber Ale, World Beer Awards 2015
 Lawless Lager – Worlds and UKs Best German-style Lager, World Beer Awards 2015
 Purity Brewing Company – Sustainable Manufacturer of the Year 2015
Issued on behalf of Purity Brewing Co by Gough Bailey Wright, St Johns House, 16 Church Street, Bromsgrove, Worcester, B61 8DN, Tel: 01527 579555. For further information please contact:  Richard Harris, richardh@gough.co.uk